Why Audit your Website?
It is important to know that every webpage in your website is healthy. Our audits check your website using independent tools and verify that you have the correct Meta Tags, Heading Tags, Page Titles, Content and Image Tags in place for the website traffic you wish to attract.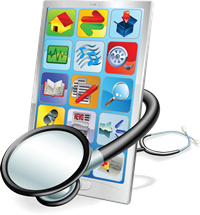 We also check for valid sitemaps, World Wide Web Consortium (W3C) and Web Accessibility Initiative (WAI) compliance and provide you with all the information you require to complete any corrective actions.
Contact Us now for a quotation and a sample audit report of a webpage in your website remember a website audit should be a proactive not reactive process.
The website audit will be in the form of a detailed written report and will include a list of recommendations that should be implemented immediately. This report will include an assessment of your existing social media applications integration and usage on your site, together with recommendations for improvement.
If, on receipt of your website audit report you decide to use our website design and content management system we will send you a quote for us to implement all the recommendations in our report.
Whether you are in Vancouver or elsewhere, consider a website audit conducted by Shadow Software and Consulting Inc. to improve your web presence. Shadow Software and Consulting Inc. will refund an audit fee if we are subsequently engaged to carry out a website design or redesign.